Junior High Catholic Golf League
Latest News & Information:
Golf Schedule
Golf Practices:
– Tuesday, April 13th – 4:00 – 5:30pm @ Pine Lake Golf Course
– Tuesday, April 20th – 4:00 – 5:30pm @ Pine Lake Golf Course
Golf Meets:
– Tuesday, April 27th – 4:00 – 5:30 pm @ Pine Lake Golf Course
– Tuesday, May 4th – 4:00 – 5:30 pm @ Pine Lake Golf Course
– Tuesday, May 11th – 4:00 – 5:30 pm @ Pine Lake Golf Course
Who:   7th & 8th grade Catholic school students
Teams of Girls & Teams of Boys with 2 or more from each school
Sign-up Deadline =  January 29, 2021 –

Sign-ups take place through each participating school's Athletic Directors.
When:  April – May 2021
Tuesdays after school – 4:00 pm – 5:30 pm
Where:  Pine Lake Golf Course
All schools practice & compete together.
2 practices with 3 competitions between schools (weather permitting)
Cost: $40 per athlete
Participating schools will be asked to help cover additional expenses based on number of participants.

Any donations to the Lincoln Catholic Athletic League would be greatly appreciated in helping continue to offer this great opportunity for our kids at a low cost.
Options for Clubs:
Golf Program Coordinators:  Steph Kolbas ([email protected]) & Anne Johnson ([email protected]).
From Coach Kolbas...
Welcome players and schools to the St. Sebastian Junior High Golf League! 
The response is extraordinary and we are looking forward to this opportunity to grow the game, give juniors an amazing opportunity to learn the skills involved in the game of golf and an opportunity to compete and represent your schools.
As we get closer to the spring season, we are asking for the following protocols to be in place during leagues…
Masks will be required when in large groups in close proximity (school policy).  This will be at the beginning of the league when going over the group introductions and plans as well as taking of team and group pictures on the first day! We have over 100 kids signed up.
Following opening remarks, prayer and expectations, attendance forms turned in, skills stations and starting holes will be assigned and players and school sponsors/volunteer/coaches will lead groups to areas, masks will be optional at this point as we will be social distancing, safe distances apart for swinging a club and enjoying the outdoors.
It is the job of each school to monitor the symptoms of each member of their team, take attendance, and monitor behavior during the league.  Please remember to have enough volunteers for your groups if large.  We need one adult per 10 players. With such a large group it will be so very important to be diligent about monitoring this so that no one gets hurt.
I would like to have a representative from each school gather for a brief meeting (5 minutes) in which we will let you know the plan for the day before we begin and you will be able to get your groups organized and give instructions instead of going over this at the beginning with everyone.
Thanks for all the cooperation and making this possible for our kids to enjoy golf league. More details to come as we get closer to the start date of April 13th at 4pm at Pine Lake Golf Course.
Thanks,
Coach Steph Kolbas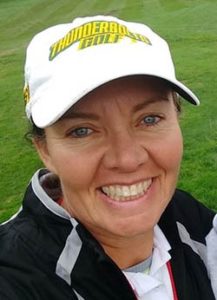 U.S. Kids Lincoln Local Golf Tour for families.
Come join the fun!!!  U.S. Kids Lincoln Spring Golf Tour offers a great place for kids ages 5-14 for the beginner and experienced player to develop and improve.   Parent, grandparent, sibling or friend can caddy and walk with the golfer during the round.  Yardages shortened for younger age divisions, registration tee gifts at every event, medals and pictures from the day! https://www.facebook.com/uskidsgolflincoln/
WIN a custom set of golf clubs!!  A free raffle ticket will be entered into a drawing for all who play in at least 4 events and additional raffle tickets for each additional event played for a custom set of clubs for a girl and a boy!
Registration deadlines approaching! 
For more information contact Tour Director: Steph Kolbas [email protected]  402-525-4176.  Play in one or as many as you want.  Here is a link to check out more details and register:  http://www.uskidsgolf.com/tournaments/local/find-local-tour/497539/lincoln
Let me know if you have any questions.  If anyone needs to reach me, I am available any time.  My phone number and email are below.  Thanks again for helping spread the word and working together!
Steph Kolbas
Pius X Boys and Girls Golf Coach
Junior High Catholic Golf League Coordinator
U.S. Kids Local Spring Tour Director
402-525-4176