Junior High Catholic Golf League
Latest News & Information:
Golf Schedule
**If golf is canceled due to weather a decision will be made by 2 pm each Wednesday. Information will be sent to AD's to share with parents and updated here.
Golf Practices:
– Wednesday, April 5th – 4:00 – 5:30pm @ Pine Lake Golf Course

– Wednesday, April 12th – 4:00 – 5:30pm @ Pine Lake Golf Course
Golf Meets:
– Thursday, April  20th – 4:00 – 5:30 pm @ Pine Lake Golf Course
– Wednesday, April 26th- 4:00 – 5:30 pm @ Pine Lake Golf Course
– Wednesday, May 3rd- 4:00 – 5:30 pm @ Pine Lake Golf Course
Your Title Goes Here
Your content goes here. Edit or remove this text inline or in the module Content settings. You can also style every aspect of this content in the module Design settings and even apply custom CSS to this text in the module Advanced settings.
Who:   7th & 8th grade Catholic school students
Teams of Girls & Teams of Boys with 2 or more from each school
Sign-up Deadline =  March 3,  2023 –

Sign-ups take place through each participating school's Athletic Directors
When:   April-May 2023
Wednesdays (and 1 Thursday) after school – 4:00 pm – 5:30 pm
Goals: Providing students with a fun and educational opportunity to
learn the many aspects of the game of golf,  in a faith-based environment,
preparing for high school competition.      
Where:  Pine Lake Golf Course
All schools practice & compete together.
2 practices with 3 competitions between schools (weather permitting)
Cost: $70 per athlete
Participating schools will be asked to help cover additional expenses based on number of participants.

Any donations to the Lincoln Catholic Athletic League would be greatly appreciated in helping continue to offer this great opportunity for our kids at a low cost.
Options for Clubs:
Golf Program Coordinator:  Steph Kolbas ([email protected])
From Coach Kolbas...
We had a great 5 weeks of League with 2 weeks of stations introducing teams to skills and 3 weeks of team scramble playing 3 holes each week with a 9-hole score determining the winners and runner ups. The teams were given plaques to display at school and players were given medals.  
Here are the final standings and CONGRATULATIONS again to the winners and runner-up teams this year!  You will receive medals for your players.
Here are the FINAL STANDINGS for the 2023 Junior High Golf League:
Boys Division
FIRST PLACE
Grade 8 St. John's Jets (score of 29)
SECOND PLACE
Grade 8 NAM Mustangs (30)
Girls Division
FIRST PLACE
St. Joseph Knights & Holy Child Cardinals (29) (St. Joseph's took the plaque to display at school)
 SECOND PLACE
St. Pat's/St. John's/Cathedral & Holy Child (36) (St. Pat's took the plaque to display at school)
CONGRATULATIONS TO ALL WHO COMPETED, HAD FUN,& LEARNED A LOT ABOUT THE GAME OF GOLF! 
Pictures posted on twitter:  https://twitter.com/BoltPx/status/1654363789142237184
 And here is a link to pictures that I had taken each week.  Hope I was able to get all the teams.  Please feel free to have supervisors add to the album if they have photos to share.  I will keep it open for a few weeks. 
Use this link to join my album in Google Photos. https://photos.app.goo.gl/gtYZDBb1W3586Nu3A
God Bless,
Coach Steph Kolbas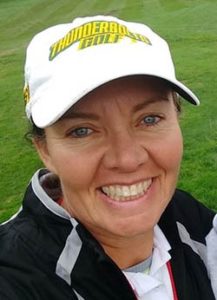 U.S. Kids Lincoln Local Golf Tour for families.
Come join the fun!!!  U.S. Kids Lincoln Spring Golf Tour offers a great place for kids ages 5-14 for the beginner and experienced player to develop and improve.   Parent, grandparent, sibling or friend can caddy and walk with the golfer during the round.  Yardages shortened for younger age divisions, registration tee gifts at every event, medals and pictures from the day! https://www.facebook.com/uskidsgolflincoln/
WIN a custom set of golf clubs!!  A free raffle ticket will be entered into a drawing for all who play in at least 4 events and additional raffle tickets for each additional event played for a custom set of clubs for a girl and a boy!
Registration deadlines approaching! 
For more information contact Tour Director: Steph Kolbas [email protected]  402-525-4176.  Play in one or as many as you want.  Here is a link to check out more details and register:  http://www.uskidsgolf.com/tournaments/local/find-local-tour/497539/lincoln
Let me know if you have any questions.  If anyone needs to reach me, I am available any time.  My phone number and email are below.  Thanks again for helping spread the word and working together!
Steph Kolbas
Pius X Boys and Girls Golf Coach
Junior High Catholic Golf League Coordinator
U.S. Kids Local Spring Tour Director
402-525-4176