Junior High Catholic Golf League
Latest News & Information:
Golf Schedule
Golf Practices:
– TBD     4:00 – 5:30pm @ Pine Lake Golf Course
– TBD     4:00 – 5:30pm @ Pine Lake Golf Course
Golf Meets:
– TBD     4:00 – 5:30 pm @ Pine Lake Golf Course
– TBD     4:00 – 5:30 pm @ Pine Lake Golf Course
– TBD     4:00 – 5:30 pm @ Pine Lake Golf Course
Who:   7th & 8th grade Catholic school students
Teams of Girls & Teams of Boys with 2 or more from each school
Sign-up Deadline =  January 29, 2021 –

Sign-ups take place through each participating school's Athletic Directors.
When:  April – May 2021
Tuesdays after school – 4:00 pm – 5:30 pm
Where:  Pine Lake Golf Course
All schools practice & compete together.
2 practices with 3 competitions between schools (weather permitting)
Cost: $40 per athlete
Participating schools will be asked to help cover additional expenses based on number of participants.

Any donations to the Lincoln Catholic Athletic League would be greatly appreciated in helping continue to offer this great opportunity for our kids at a low cost.
Options for Clubs:
Golf Program Coordinators:  Steph Kolbas ([email protected]) & Anne Johnson ([email protected]).
From Coach Kolbas...
Greetings,
First, I would like to thank Cody Wallinger and each of the Catholic elementary schools and all involved in making this Catholic Junior High Golf League a success. 
My name is Steph Kolbas and I have been the Pius X High School Golf Coach since the late 90's for boys and girls.  Our programs have been very successful and we often finish in the top 10 or better every year with 3 state championships with the girl's program and a number of runner ups in both boys and girls.  Most all the graduating seniors that I have had the privilege to coach in High School, have either gone on to play collegiate golf or have had offers to play golf while furthering their education. 
In recent years, I have often thought of how to keep improving the golf program into one of the best in the State as well as how to involve younger kids in the game that I have loved so much and has given me many great opportunities and lifelong lessons. 
Most recently I have been approached by parents asking for more opportunities for their kids to be involved in golf.  It wasn't until 2017 that I felt compelled to do more than just camps for youth in the summers and volunteering.  I was pushed by a couple parents in wanting desperately an option for their child to play golf before High School.  I have also wanted to improve the quality of the golf programs by introducing the game to Junior High students in a fun and somewhat competitive learning experience, particularly for girls, as there are many scholarship opportunities beyond High School available.  I would certainly love to encourage more girls to learn this sport that has given me so much to be grateful for.
I am grateful for this opportunity for the future of Pius X, the future of Junior High golf opportunities and the life lessons that can be learned by teaching this game to youth so that they can enjoy a game for life.
Thanks for your generosity in helping promote and encourage the Catholic Junior High Golf League for our youth. 
Sincerely,
Coach Steph Kolbas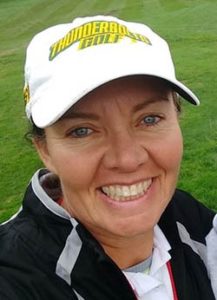 U.S. Kids Lincoln Local Golf Tour for families.
Come join the fun!!!  U.S. Kids Lincoln Spring Golf Tour offers a great place for kids ages 5-14 for the beginner and experienced player to develop and improve.   Parent, grandparent, sibling or friend can caddy and walk with the golfer during the round.  Yardages shortened for younger age divisions, registration tee gifts at every event, medals and pictures from the day! https://www.facebook.com/uskidsgolflincoln/
WIN a custom set of golf clubs!!  A free raffle ticket will be entered into a drawing for all who play in at least 4 events and additional raffle tickets for each additional event played for a custom set of clubs for a girl and a boy!
Registration deadlines approaching! 
For more information contact Tour Director: Steph Kolbas [email protected]  402-525-4176.  Play in one or as many as you want.  Here is a link to check out more details and register:  http://www.uskidsgolf.com/tournaments/local/find-local-tour/497539/lincoln
Let me know if you have any questions.  If anyone needs to reach me, I am available any time.  My phone number and email are below.  Thanks again for helping spread the word and working together!
Steph Kolbas
Pius X Boys and Girls Golf Coach
Junior High Catholic Golf League Coordinator
U.S. Kids Local Spring Tour Director
402-525-4176