Junior High Catholic Golf League
Latest News & Information:
Golf Schedule
**If golf is canceled due to weather a decision will be made by 2 pm each Wednesday. Information will be sent to AD's to share with parents and updated here.
Golf Practices:
– Wednesday, March 30th – 4:00 – 5:30pm @ Pine Lake Golf Course- Canceled due to weather! We will start next week.

– Wednesday, April 6th – 4:00 – 5:30pm @ Pine Lake Golf Course
Golf Meets:
– Wednesday, April  13th – 4:00 – 5:30 pm @ Pine Lake Golf Course
– Wednesday, April 20th- 4:00 – 5:30 pm @ Pine Lake Golf Course
– Wednesday, April 27th- 4:00 – 5:30 pm @ Pine Lake Golf Course
Your Title Goes Here
Your content goes here. Edit or remove this text inline or in the module Content settings. You can also style every aspect of this content in the module Design settings and even apply custom CSS to this text in the module Advanced settings.
Who:   7th & 8th grade Catholic school students
Teams of Girls & Teams of Boys with 2 or more from each school
Sign-up Deadline =  February 23,  2022 –

Sign-ups take place through each participating school's Athletic Directors
When:  March – April 2022
Wednesdays after school – 4:00 pm – 5:30 pm
Goals: Providing students with a fun and educational opportunity to
learn the many aspects of the game of golf,  in a faith-based environment,
preparing for high school competition.      
Where:  Pine Lake Golf Course
All schools practice & compete together.
2 practices with 3 competitions between schools (weather permitting)
Cost: $60 per athlete
Participating schools will be asked to help cover additional expenses based on number of participants.

Any donations to the Lincoln Catholic Athletic League would be greatly appreciated in helping continue to offer this great opportunity for our kids at a low cost.
Options for Clubs:
Golf Program Coordinator:  Steph Kolbas ([email protected])
From Coach Kolbas...
To all AD's, supervisors, and players,
Thank you ALL sincerely for all your efforts making this year's Junior High Golf League spectacular. Without your help and all the volunteers, including the Pius X Boys Golf Team, and especially Anne Johnson, this year's league would not have been possible.  I would like to particularly address how great it was to see so many kids having so munch fun learning the game that they could play a lifetime.  So much comradery, laughing, skill improving, and fun was evident.  I also want to stress the fact that we had approximately 140 golfers participate, and I thank each one for the respect they showed during the league and the care in being careful around others. The goal of this League has been to grow the game at a younger age, help improve the level of golf in high school and on our Pius X teams as well as inspire more girls to play the game.
Finally, I would like to announce the Junior High Golf League winners.  But before I do, let me give you some clarity on how the winners were determined.  Since all teams were able to get 7 holes completed, I have made the decision that that is fair to use as the league team's totals.  If any team played more than 7 holes then that was a bonus for them.  Following the 3 days of tournament play, in the girls' division the winners were Holy Child #1, Katherine Zelany, Lucy Lawson, Mary Miranda, Maria LaPlante with a score of 25.  And the Girls' Division Runner ups were St. Teresa's, Maggie Seeman, Jerzey Wiechman, Isabella Brigham, Addisen Hraban and Aleena Koenig with a score of 27.  Congratulations Ladies, it was a tight race!
In the Boys' Division we had a tie between St. Joseph #1 and Cathedral with a score of 25! Therefore, I went to the scorecard playoff policy used on my U.S. Kids Local Golf Tour to break the tie.  Here is how it is done for those who would like to know: https://foundation.uskidsgolf.com/tournaments/local-tours/playoff-policy  Basically, I used the best score on the last 6 holes played and both schools were still tied, so I went to the best score on the last 3 holes and the tie was broken.  This year's league winners are St. Joseph #1, Cooper Grosserode, Owen Dodd, Ben Springer, David Krier, Samuel Huck  and the runner up plaque is awarded to Cathedral, Kephas Villa, James Billota, Thomas Lewallen, Colten Wieseler, Taven Hoeft.
CONGRATULATIONS TO THE CHAMPIONS AND RUNNER UPS as well as all players participating in League!
I will be sending out Pius X Camp brochures soon once details are finalized.  I hope that your players will be able to participate and enjoy some more fun on the golf course.  Thanks again to all!
God Bless,
Coach Steph Kolbas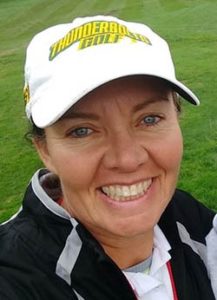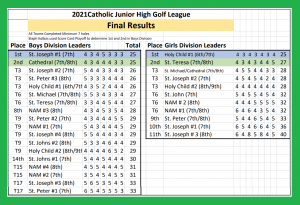 FINAL Standings
U.S. Kids Lincoln Local Golf Tour for families.
Come join the fun!!!  U.S. Kids Lincoln Spring Golf Tour offers a great place for kids ages 5-14 for the beginner and experienced player to develop and improve.   Parent, grandparent, sibling or friend can caddy and walk with the golfer during the round.  Yardages shortened for younger age divisions, registration tee gifts at every event, medals and pictures from the day! https://www.facebook.com/uskidsgolflincoln/
WIN a custom set of golf clubs!!  A free raffle ticket will be entered into a drawing for all who play in at least 4 events and additional raffle tickets for each additional event played for a custom set of clubs for a girl and a boy!
Registration deadlines approaching! 
For more information contact Tour Director: Steph Kolbas [email protected]  402-525-4176.  Play in one or as many as you want.  Here is a link to check out more details and register:  http://www.uskidsgolf.com/tournaments/local/find-local-tour/497539/lincoln
Let me know if you have any questions.  If anyone needs to reach me, I am available any time.  My phone number and email are below.  Thanks again for helping spread the word and working together!
Steph Kolbas
Pius X Boys and Girls Golf Coach
Junior High Catholic Golf League Coordinator
U.S. Kids Local Spring Tour Director
402-525-4176